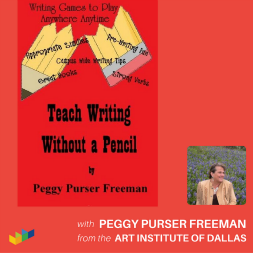 Proud to be on Nepris as one of their featured presenters this month. I'll be sharing :
Teach Writing without a Pencil ~ Games/Verb Ball

Students explode into great writers when strong, action verbs become second nature. I'll walk your students through an activity that is sure to become one of the students' favorite. It can be done in the hallway, waiting to change classes, or as homework. Mom and dad will have fun, too. For lower grades you not only increase the students' knowledge of what a verb is, but they can verbalize the skill years before they are tested on it.

Authentic Voice Using Similes and Metaphors

This activity gives the student experience in creating similes and metaphor. Even better, it shows how to create a simile that has not been over-used or one that sounds out of place in the story. It also helps to develop the writer's voice in the process.

Resource: Teach Writing without a Pencil is a collection of games and activities to help teachers give their students tools to use in writing, soon to be released in Two Parts, developed by children's author Peggy Purser Freeman. This workshop is a brief overview of why teachers will want to add games to the curriculum they are currently using.

** Teachers attending this workshop will receive chapters free in ebook format for attending this workshop. 
Key Questions
How can I quickly improve my students writing without making them hate the writing process?
Expected Outcomes
In this session, children's author Peggy Purser Freeman shares two games from Teach Writing without a Pencil to give students tools for success.
Documents
See more at: https://app.nepris.com/sessions/session/detail/48157